Traditional Chinese nets, Cochin. Photo.
Kerala
This article was first published by Harpers & Queen, July 1994.
Travel in India has entered a golden age. It has always been exceptionally interesting, but when travellers left the main destinations they often faced difficulties and discomfort. Telephones rarely worked outside the main cities, so it was often impossible to book a hotel room; and usually there was hardly any accommodation to book: you might just have to beg a dusty room in a spartan 'dak bungalow'. Travel by train was rewarding, but if you wanted to travel by air, you were obliged to use the lackadaisical, hopelessly erratic Indian Airlines, who held the monopoly on air travel.
Suddenly everything is changing, helped by a government that is liberalising the economy and reducing bureaucracy. On this trip to Kerala I sped through Bombay airport, instead of suffering the previous interminable queues. My subsequent flight to Cochin was excellent because, now that Indian Airline's monopoly has been removed, other airlines can compete efficiently on internal routes. Buying rupees used to be a major chore, but now all the main hotels will change your money – sometimes even at a fair rate. Telephones have started to function, so it is possible to book a hotel room. [2019 addition: I have memories from my earliest Indian travels in the 1970s, when there were several grades of telephone call, of which the fastest was called 'Lightning'. Even with this, several hours would pass before you were granted a connection.] Not only is it now possible to reserve a room, but there is also a far greater chance that this room will be enjoyable. In Kerala I found a typical example, Spice Village, just outside the Periyar Game Reserve. This unpretentious hotel had wide balconies, wickerwork chairs, an open-air dining room under a thatched roof, and no background music. Only a few years ago the hotel would probably have been furnished with white plastic furniture; and music from a transistor would have blared through a freezing, pitch-black, air-conditioned dining room.
Indians are fast realising the extent to which their customers are delighted by a post-modern style, and they are quick to copy good ideas. In the Coconut Grove Hotel in Kerala's backwaters, the manager showed me the open-air bathrooms, which have cheerful courtyards planted with banana trees and exotic bushes (the lavatory and basin is protected from rain by the eaves of the roof). The manager told me that he had taken this idea from the Surya Samudra, a hotel on the coast. When I later stayed in one of their harmonious traditional cottages, , the German owner told me that he had copied the idea from Bali.
Another reason for this golden age is that the current exchange rate (which may not last) makes Indian travel a wonderful bargain provided you don't want the entire paraphernalia of international hotels. The Spice Village for instance charges about £36 for a double room. All services are cheap, and my excellent haircut at the Olé salon in Cochin cost me 50 pence. If you are prepared to live simply, the bargains are dramatic: at the old British Residency in Quilon, a magnificent relic of the raj, I was charged £1 a night for an imperial-sized bedroom, with an equally enormous bathroom, dressing room and balcony. The bedroom was hideously lit by neon, and the bathroom had no hot water; but many addicts of Indian travel don't mind a spicing of mild discomfort.
A final word on the advantages of travel in India: the country is one of the safest in the world. Considering the growth of violent crime in so many Caribbean, African, and South American countries, it is a joy to be in a country where you feel free to wander where you like. But the ultimate recommendation for Indian travel is not only that it is now cheap, comfortable, and safe, but, along with all these advantages, it remains as exciting and interesting as it ever was.

Kerala is the small thin state on the Malabar Coast in the South Western corner of India. It was founded within language boundaries in 1956 by joining the Malayalam-speaking area of Malabar with the Malayalam-speaking former kingdoms of Cochin and Travancore. The state hasn't been a major destination for travellers because it has few celebrated sights. Tamil Nadu has better temples, Goa better beaches, Madhya Pradesh better game reserves, and Rajasthan better palaces. But every visitor is enchanted by the state, and it certainly has at least one unique selling-point – its `backwaters'. Nowhere, not even Kashmir, has anything like this inhabited area of lagoons, lakes, canals, and paddy fields, where visitors gradually feel their worries peel away.
Previously, because there was nowhere to stay, tourists experience of the backwaters was confined to one exhausting day-trip on a boat; but now there are other possibilities, and I chose to say at an island farmhouse run by a 47 year-old retired naval commander and his wife. My boat trip to Mankotta Island led through lakes, rivers and canals fringed with coconut trees. The humid air was thick with the heady smells of wood smoke, leaf-cigarettes, and white-blossomed trees. Although there is so little dry land, the area is densely populated and full of activity: women fishing from the bank, tiny children herding massive flocks of duck, traders paddling slim dugouts piled high with merchandise. The people of the backwaters are dependent on boats, as many of their houses being built on minute spits of land, hardly large enough for a few coconut trees and a buffalo.
The guest-house was a more substantial property – a one-storey ochre-coloured farmhouse built by the naval commander's grandmother. Bit by bit she had bought tiny plots of land until she owned the whole island. She then created a farm, and imported several families as labour: one family of untouchables, one of higher-caste Hindus, one of Muslims, and one of Christians. When her grandson, my host, first came to live on the island, his beautiful wife found it remote, being a 45 minute boat-ride from the nearest road. But now their canoe can take her across the canal to a serviceable dirt-track, where she keeps a car. About a year ago she and her husband decided to receive paying-guests in three of their rooms, and they remain delighted by the novelty. The first guests were French, and before their arrival the commander, his wife, and their children spent three days practising a recital of the entire Marseillaise. None of the family had ever spoken or heard any French before, so not a single word was intelligible to their delighted guests.
More than a fifth of Kerala's population is Christian, and my hosts, Jai and Laila Chacko, are `Syrian' Christians, members of the oldest and most prestigious Christian community. When we visited their white-bearded family priest, he showed me the plaque on his church, which explained that it had been founded in AD 57 by St Thomas – the Doubting Thomas of the New Testament. Although St Thomas's arrival on the Malabar Coast hasn't been completely proved, there is no doubt that christianity was certainly established here within the next two centuries, long before its first toleration in Rome. When the Portuguese arrived in the Fifteenth Century, they were surprised and disturbed to find a Christian community with no allegiance to the Pope. Many surviving Christian usages still pre-date the papacy: for instance, the Syrian services are held in Syriac (which the congregations don't understand). When I asked the Chacko's family priest to read from his service book, he read from right to left, with an accent and inflection that was recognisably Middle Eastern.
Staying in the guesthouse was a delight; the food was Keralan cooking at its best – plenty of fresh fish, prawns, duck from the farm, and a memorable red jam made from a rare variety of banana. A paunchy bare-chested retainer doubled as a butler and waiter, as well being the farm-manager.
Although the atmosphere at Mankotta sometimes evoked pre-revolutionary Russia, Keralan feudalism is in fact being fast extinguished, even in the backwaters. The Commander told me that although the government had offered him large subsidies to start a prawn-rearing business on the island, he had decided against such a high-value cash-crop, in case it made bad blood between himself and the villagers. "The pressures are great here, the population is high, and we have to live together".
Industrialists are wary of starting a business in this corner of India, because Keralans are known for an exuberant consciousness of their rights – maybe a result of living in the most educated and developed state in India. The cities seethe with strikes and demonstrations. On my first day in Cochin, the main street was clogged with a banner-waving march, while elsewhere the ship-yard was surrounded by a communist sit-in; the bus employees were also on strike, and so were the doctors. The elephant mahouts had only recently ended an industrial action, and now the headmasters were planning to start one of their own.
The communist party is often behind these agitations, and has been powerful here ever since 1957 when the state was the first in the world to install a communist government after a free election. Kerala is famous abroad for its communism and its literacy, and everyone believes that the literacy is a result of the communism. But this isn't the full truth. Although communist dominated governments have had vigorous literacy campaigns (at one stage more than 40% of the state's budget was spent on education) this area had the highest level of Indian literacy long before the communist government ever came to power. The main causes were enlightened royal government of Travancore and the vigorous efforts of nineteenth-century protestant missionaries. It is also wrong to believe that the Kerala communist party has ever been profoundly communist; in this respect it resembles the Italian model. The Party did have a brief flirtation with Bengali-style terrorist tactics, but Kerala's gentleness and tolerance prevailed. The Keralan communists have never advocated total control by the state, and it is the only communist party in the world to have leaders who are openly religious.
If you ask Keralans why they vote communist, the most common reply – again echoing Italy – is that their communist administrations tend to be far less corrupt than the others. A lesser reason is that under a communist administration there are fewer strikes.
The original rise to power of the communists was helped by the region's repressive caste system, once considered to be the most extreme in India. Apart from the usual problem of untouchability, there were complex rules decreeing the specific distance that polluting castes had to keep from their superiors. Untouchables weren't merely forbidden to enter a temple, they were forbidden even to pass in front of its gate. As if this wasn't enough, some castes were also considered `unseeable'. One of my guides, a Brahmin, told me that when his grandfather used to leave his front door, he would emit a shout to warn any `unseeables' to get out of his sight.
Although as recently as the 1950's Kerala was still being described as `a madhouse of caste', during recent decades it has become the most progressive state in the subcontinent. Household servants don't have the gaunt look of terrified obsequiousness that is so often found among their equivalents in the north; Hindus often eat beef; many of the lower castes have risen to the highest ranks of administration; the birthrate has plunged, and even the poorest families often restrict themselves to two children. But if Kerala is the prototype for future liberalisation in India, it must also be admitted that some conservative traditions stubbornly remain – for instance dowries and arranged marriage. Dowries, despite being illegal, are universal, and often economically crippling. And most marriages are still arranged, not just within the same caste, but within the same sub-caste. Few think that these traditions are likely to soon change.

After three nights at Mankotta Island, I was picked up by a houseboat, which an enterprising Keralan had converted from a magnificent high-prowed rice boat. It was a superb example of post-modern India, harmoniously furnished with natural materials in subdued colours. When I heard a tourist tell a boat's resident guide that more customers would be attracted by fixing a large name-plaque on the prow, the guide replied `That would not be keeping the right atmosphere'. I sat in a wicker chair just a few inches above the water while we cruised along a network of canals until reaching a large lagoon where we anchored for the night.
The next morning was unforgettable. After being woken with cardamom-spiced tea, I found that the previously empty lagoon was frantic with activity: the houseboat was now surrounded by dozens of fishing boats, glowing in the rosy pink light of an Indian morning. In the distance, enormous Chinese nets, like billowing sails, were being levered up and down on the edge of the sea; smaller nets were being hurled out of the back of canoes; slim square-sailed fishing boats were gliding into the lagoon from every direction. Near us, the heads of fishermen bobbed just above the water; they were using their feet to make grooves in the mud for trapping prawns. From the palm trees at the edge of the lagoon came the amplified sound of chanting hymns and drums, giving an operatic atmosphere to the magnificent scene. After about two hours, the rising sun had scorched out the dawn light, and the activity rapidly diminished; while the boats were slipping away, a solitary canoe approached to sell us a very cheap basin of prawns, and then the entire lagoon fell silent.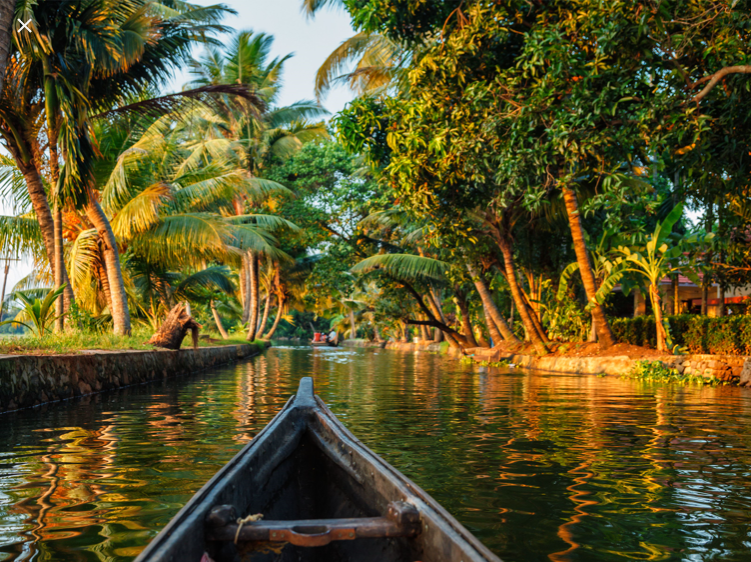 Photo: In the backwaters
The plains of Kerala are watered by 41 rivers that flow down from the range of mountains that border most of the state. After leaving the backwaters, I drove up to the foothills and through spice plantations to reach an island in the Periyar wildlife reserve, where there is a small hotel, previously a guesthouse of the Maharaja of Travancore. Having heard that it had recently been renovated, I expected it to resemble a hotel in Frankfurt; but post-modern India was winning even here, and the place can have changed little since royal ownership: it is still an unpretentious bungalow of six bedrooms furnished with characteristic black wooden furniture; my bedroom had a spacious veranda from which I managed to see wild pig, elephant, and the rare Indian bison.
Such unspoilt hotels usually have a Comments Book which includes a few nuggets, and this one was no exception. Recently, an Englishwoman named Birkbeck had written two pages of complaints, next to which another visitor had written, "Birkbeck (breed Anglo-Saxon). The species is distinguished by dilate blood (weak tea), snotty noses, carious teeth, and anal fistula. Commonly given to chronic complaint. Pity the poor God!" The Comments Book, though, was mostly filled with praise, and I even discovered a plaudit from Salman Rushdie: "One of the last, old country hotels in India. The sanctuary I do not need to call beautiful (si monumentum requiris, circumspice). But it is. We saw many elephant, otter, kingfisher, cormorants etc. No big cats, alas, but that would have been too much to expect".
In fact no one is likely to spot a tiger. The forest is so dense that it could hide ten thousand tigers, and few visitors venture inside the forest; most of the game-watching is done from boats, because the wildlife sanctuary is based around a Nineteenth Century reservoir. In any case tigers are in precipitate decline throughout India. Poaching has dramatically increased, partly because of the colossal prices that Chinese millionaires (rapidly increasing, unlike tigers) are prepared to pay for the bones, which are used as aphrodisiacs or medicine.
Although Periyar is excellent for seeing elephants, you are unlikely to see a tusker, as most of these have also been poached. Having watched enough elephants in other parts of India, I asked my boatman to look for an otter, as I had never seen one. He said this would be difficult because at this season they had gone up the rivers, but he would be "maximum trying". After two hours of maximum trying we had no success, so he decided to get the advice of some tribal fishermen whom we found up a creek, sheltering under a thatched lean-to. A fisherman gave me a tin mug of hot fragrant coffee, and then joined us in the boat. For an hour he led us in and out of various bays, then suddenly pointed to five whiskered faces peering at us out of the water. As we approached closer, we could hear their whistles and squeaks. The otters kept their nerves for a couple of minutes, then lumbered up a bank and disappeared into the dense bushes.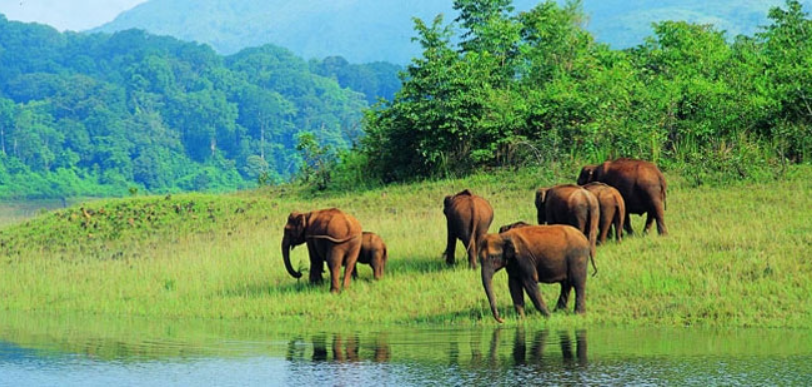 Photo: Elephants at Periyar
Most tourists in Kerala spend some of their holiday on the beach, so after Periyar I move to the coast's most famous hotel, the government-run Ashoka. It was built by a fashionable architect, but is a graceless and gloomy building, a reminder of India's modern era. My bedroom's noisy air-conditioning was centrally controlled, and no one was able to turn it off. Despite leaving my balcony doors open to allow Kerala's hot weather to enter, I was so cold at night that I had to sleep in my clothes. I had planned to stay in the Ashoka for three days, but fled as fast as I could.
After recovering in the humanity in one of the traditional cottages of the Surya Samudra hotel, I moved inland to Kerala's capital, Trivandrum, where I checked into an efficient and slightly flash businessman's hotel; my spacious air-conditioned room cost only about £12 a night. These serviceable hotels with their 24-hour coffee shops are likely to mushroom all over India, a result of the explosive growth of a demanding middle-class.
Trivandrum has almost no celebrated attractions for sightseers, but has much of the charm of a former royal and religious capital. Although the city abounds with splendid Indo-saracenic administrative buildings, the real spiritual and physical centre is the Padmanabha temple. Its gate-keepers, dressed in white dhotis and smart yellow cummerbunds, prevent the entry of all non-Hindus, and enforce a strict dress-code which prohibits the wearing of any clothes that have been sewn. Trivandrum grew concentrically around the temple: the Brahmins being allowed to live closest, the nobility next, and so on. Most of the houses in the alleys around the temple are still lived in by Brahmins, and a constant, dignified stream of them can be seen entering the temple. Because a shirt is inevitably stitched, the men go bare-chested.
Like other Keralan cities, Trivandrum has clean streets and no beggars. It is an easy-going pluralistic place, where you can see temples, mosques, and churches all in the same street. Although politicians in the north have succeeded with their cruel incitement of religious hatred, the occasional small disturbances down here haven't managed to overthrow a long tradition of religious toleration. During the famous Keralan pilgrimage of Sabarimalai the Hindu pilgrims still visit a specific mosque to do honour to Vavar, a Muslim friend of their saint. The richer Hindu families often hired Christian teachers for their children, even allowing them to teach about Christianity. The parents needn't have worried too much: their children tend to find Jesus Christ all very admirable, but he could hardly compete with the rival attractions of Krishna who knew how to satisfy all his 1008 women.
In literate Kerala, where newspapers are read in every village, there is always a strong chance of lively, if sometimes argumentative, companionship. On arrival at my first hotel in Cochin, a pile of invitations awaited me; this was characteristic, for Keralans are exceedingly hospitable and generous. But one of the letters, inviting me to lunch and a dance performance, had a sting in the final paragraph: "My only other comment is that your entire itinerary appears so touristy to me that it indicates two weeks of utter boredom. Your type of hotel reduces me to tears with their dreary sameness." [2019 addition: if my memory is correct, this was Arundhati Roy's mother, who has clearly passed some of her feistiness along to her daughter.]
I was a bit miffed by this criticism, having previously thought that my itinerary was quite enterprising; but Keralans are prone to enjoying any excuse for discussion, politicking or argument. In his charming book Chasing the Monsoon Alexander Frater describes the time when he stopped to watch a hole being dug by a water-surveyor and his team. The inevitable crowd gathered. A man standing next to Frater challenged him to define the nature of truth. Before Frater could answer, another man shouted "Before defining the nature of truth, we must define the nature of God. Can we define either?". "Yes, yes" cried observers from various parts of the crowd, who then proceeded to define both. Meanwhile the crowd grew, including a vendor of snacks, then a vendor of hot drinks, and then an itinerant barber who touted for custom. Someone joked that, if the crowd continued to grow at that rate, they would soon have to elect an MP and send him to Delhi.
Another letter awaiting me was from the current head of Travancore's former royal family. I had written to request an interview with the present `Highness' (he no longer uses the title `Maharaja') because, until the integration of princely states in 1949, his family ruled over the largest part of Kerala. In several ways unusual among Indian royalty, they follow the matrilineal system of Kerala's higher castes, with the result that a Maharaja's wife was not the Maharani, nor are his children his heirs. The Maharani is the most senior female member of the family, and the royal succession passes through her.
The last ruling Maharaja of Travancore died recently and is still revered in his former kingdom. Although based in a palace, he lived a life of simplicity, dressed simply in the Keralan dhoti, and eating in the traditional style, cross-legged from a plantain leaf. He was devoutly religious, and the centre of his life was the family's custodianship of the Padmanabha temple in the centre of the city. Despite this, he was a reformist, and in 1932 issued a celebrated edict allowing untouchables to enter temples. It was the first major step in India towards the eradication of Untouchability.
The letter from his younger brother invited me for tea in an enormous white Edwardian-Indian palace, set in 37 acres on the edge of the city. Marthanda Varma, dressed in a white Nehru coat and a Keralan dhoti, greeted me with the words "Now what have you been doing with yourself?" After the arrival of his handsome niece, we sat facing each other in a room of Victorian formality while white-suited barefoot servants served scones, tea, and succulent Indian pastries. I asked why, unlike so many princes in the north, his family hadn't used their prestige for political purposes. (The Maharaja of Rewa was once in the Guinness Book of Records for getting an electoral majority of 320,000.) He said that, because his family were the slaves of Padmanabha, he would never even consider going into politics. "Note that I have said slaves not servants. Servants have a choice, we don't have any choice." Later he explained, "At present no one loves us, and no one hates us. But if we enter politics, some will love, some will hate. That would not be good, because of our relationship with the God".
After our meeting he sent instructions for me to be taken on a tour of the city, which would include some unvisited sights. Next morning his administrator led me into a private area near the temple, where he revealed a succession of deserted palaces. The most remarkable was a long, two-storey Eighteenth Century building constructed entirely of wood, but still in superb condition. The windows are fitted with the original elegant wooden louvres; no glass has ever been used. Under the windows a row of carved horses' heads forms a magnificent frieze. On the inside all the beams, pillars and brackets are delicately carved, and in some rooms the carving is as sumptuous as in a Jain temple. None of my many guide books mention this palace, but there are plans to open it to the public. The administrator told me something else that I had never read: each Maharaja of Travancore was obliged to rule from a new palace, which had to be built for him by his predecessor; this was the explanation for the extraordinary cluster of palaces so close to the temple.
The administrator was also able to corroborate a story about a traditional local ceremony. The continuation of this ceremony seems to offer proof that, despite hectic development economic growth, India's culture and traditions, even its vagaries, will survive – in short, the subcontinent is in no danger of becoming as blandly suburban as Singapore. Twice a year His Highness Marthanda Varma, in his capacity as custodian of the Padmanabha temple, leads a procession that has to cross the runway of Trivandrum airport. The busy airport (with more than twenty international flights each day) is obliged to come to a complete halt.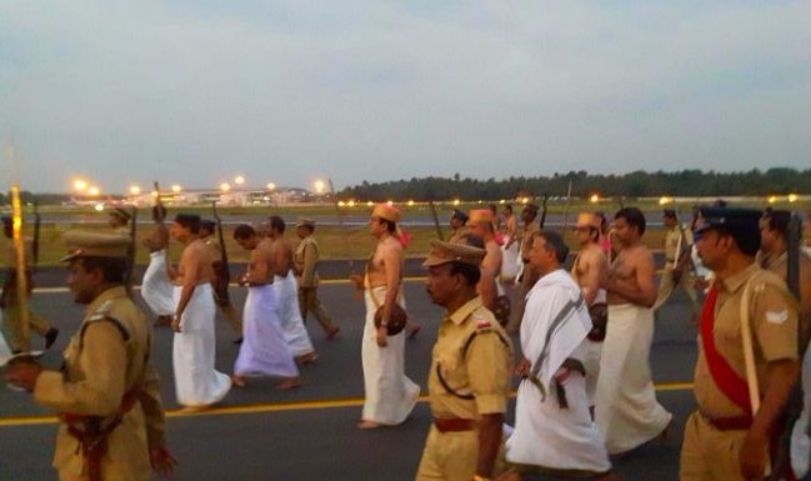 Photo: The royal and religious procession, closing Thiruvananthapuram (Trivandrum) airport in 2017
[2019 addition: I am happy to confirm that the procession still takes place, and on two days each year the international airport is closed for five hours, so that royal family members, priests and elephants can process to the beach, where the idols are given a ritualistic bath.]

Articles by John Hatt
Other Articles

Home